It's time to get growing! Regardless of the size of your landscape, anyone can design and implement an edible garden. There is nothing more satisfying than growing your own produce– it truly makes you feel like a superhero when green veggies and herbs begin to sprout through the soil. The first step is to plan the layout of your edible garden, so throw on your cape and follow these key design tips:
The First Phase of Edible Garden Design: Planning
There's a lot to consider as you fantasize about the ideal edible garden layout. It's imperative to have a good vision, allowing you to get organized and design a layout that works! If space is limited, don't give up—it may just require some creative thinking. Regardless of the size, there are many edible garden design options. To get started, ask yourself these key questions:
What is the size of the space I hope to use for my edible garden design?
How much sun does this space get? (Hint: Most vegetables thrive in full sun.)
Will I need to enclose or fence off my garden space to avoid local animal invasions? (Hint: Rabbits love lettuce!)
Would I prefer the ease of a smaller patio-style edible garden design or a large land plot to suit my needs?
Where is the closest water source? (Hint: If possible, plan your edible garden near a hose.)
Do I have physical needs that may require a hip-level raised garden, or can I kneel down on the ground for longer periods of time?
Is my soil good, or will I need to bring in more garden soil and compost?
What types of fruits, veggies, and herbs do I plan to grow? (Hint: Start small and think about what you eat the most!)
Ensuring Your Edible Garden Design is Accessible
The above questions should hopefully avoid this dilemma. However, it bears repeating–
there's nothing worse than implementing an edible garden design only to realize that you can't easily access it. Weeding, pruning, routine maintenance, and harvesting (the best part!) are all frequent tasks that you will be performing in your edible garden. When making your edible garden design, make sure you have proper spacing between garden plots and rows, ensuring you can get between all your vegetables for easy access. In general, the goal is for main pathways to be at least 30 inches wide, allowing for plenty of room to maneuver between garden plots. The individual garden plot itself should measure no more than 4 feet wide; this ensures all plants are at arms reach without trampling the soil. If you plan on a raised bed for your edible garden design, then these measurements should also be considered. Overall, you want to be able to freely move between garden plots and easily access all your yummy edibles.
Stylish Edible Garden Design
You don't have to sacrifice style to design your edible garden. In addition to the beauty of your bounty, consider adding a unique sense of style to your edible garden design. Here are some fun ideas to consider adding to your garden:
Trellises
Arbors
Fountains
Statues
Fun Garden Gnomes
Vintage Signage
Wind Chimes
Colorful Fencing
Decorative Stones
Pinwheels
Suncatchers
Benches or Seating
Marigolds and other annual flowers (Tip: Marigolds naturally repel pests!)
Vertical Growing Towers
Front Yard Edible Garden Design (Tip: This is a trend that's taking off; why hide your garden's beauty in the backyard?)
You'll be spending plenty of time in your garden, so make it into a place you want to go; a summer garden getaway where you can read a book or sip on a cool drink while you watch your garden grow.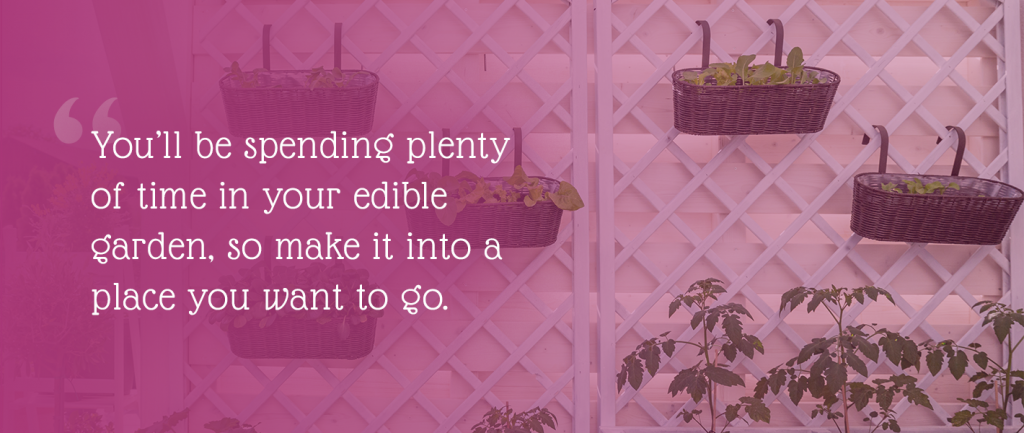 Edible Garden Design for Small Spaces
Small space garden design can be a dilemma, but there are some easy and unique solutions! Here are just a few tips and tricks to incorporate an edible garden design into your smaller spaces:
Pallet Gardening: It's so fun and easy to turn a wood pallet into a space for a small, yet thriving edible garden. Use the narrow slats to plant lettuce, spinach, cilantro, basil, and chives. The slats won't accommodate deeper root vegetables such as carrots, but that's just fine as there are plenty of shallow-rooting edibles to choose from.
Container Gardening: You don't require a huge plot of land to design a decent edible garden. Large patio containers and pots can be ideal for growing edibles. Just remember, containers dry out quicker, so they may need more water.
Vertical Gardening: When space is small, look up! Tower-style garden designs are becoming increasingly popular. These work well for growing strawberries, lettuce, and herbs.
We hope these tips got you started on your edible garden design! If you have any questions, come see us—we have plenty of garden design advice to offer.
Let the kids make a mess in OUR house. Bring ...
Read More

→
Introduction As the days grow shorter and the air takes ...
Read More

→